politicoTracker", a News Discovery Tool for the iPhone that lets users find relevant, real-time news about most U.S. federal, state, and local elected officials. This app employs advanced object-based search technology that additionally allows the user to instantly cross-search, or "group" political news into various topics, efficiently highlighting relationships between the politician and other interests.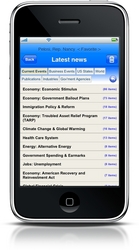 News Grouping is politicoTracker's Killer Feature
This ability to drill down and cross-reference news search results is known as "news discovery", as it allows users to discover facts that they would not have known to look for otherwise. politicoTracker is the only app for the iPhone to use this patent-pending technology, but is only the first of several apps pTracker intends to develop for mobile device users, with each app focused on a particular subject.
politicoTracker ships with a comprehensive database of U.S. Members of Congress (Senators and Representatives), and Executive Elected Officials and Cabinet Members, plus State Senators, Congressmen, Councilmen, and Governors - over 6600 names in all. Users can filter the list to quickly select a specific person, or use the "Favorites" feature for "3 taps to get results" access to the politician's news.
politicoTracker allows users to answer questions such as these (presented with recent examples):


How are Secretary of State Clinton's activities broken down by World Geographic regions? Secretary Clinton recently met with Bolivian Foreign Minister David Choquehuanca for the second time this year.
What is the local state representative doing about Current Events, such as home foreclosures? Connecticut State Rep. Ryan Berry co-led a committee that introduced consumer protection legislation.
What is your congressman's involvement in Business Events, such as plant and factory closures? LA State Rep. Wayne Waddell hopes workers at GM's Shreveport plant, due to close in 2012, will commute or move to Monroe for a new auto plant proposed by San-Diego startup V-Vehicle Co.
What is President Obama's involvement with issues at the U.S. State level? Recently Obama met with California company Hara's CEO Amit Chatterjee to discuss energy innovation and job creation.
What is the New York Times, or the local press, saying about a specific potential presidential candidate for 2012?
Just group the politician's news by Publications to find out.

In what ways is the state's U.S. senator involved with the Transportation Industry? California Sen. Barbara Boxer announced new commercial aviation safety legislation.