2009 -- GoWeb3D has been selected as one of 50 developers globally to deliver content on Layar, the revolutionary mobile augmented reality browser. Layar displays real time digital information about your company, products, or services on top of reality in the camera screen of your mobile phone.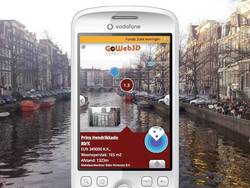 GoWeb3D will deliver content for Layar, the mobile augmented reality browser.
"GoWeb3D is ready to take orders to build augmented reality Layars for the mobile," said Dave Elchoness, Managing Director of GoWeb3D in the US. "Imagine holding up your phone and seeing information about the world around you overlaid on the real life locations in the screen. For example, fast food chains, retailers, banks, realtors, and web 2.0 providers, just to name a few, can benefit from this amazing technology immediately and GoWeb3D can help."
"Take the wealth of information on the web and overlay it on your mobile's camera view. That's Layar. Even better, you can click through to information about what you're seeing," remarked Rahul Dutta, Managing Director of GoWeb3D in India. "So say you're looking for a great restaurant nearby. Hold up the phone, select the right Layar, read reviews, and walk towards the marker. Want to make dining reservations? Just tap on the marker. Or how about searching for real estate? Hold up the phone and see all the housing options around you!"