Looking for any Book for your iPhone and iPod Touch. Little Black Book 2.0 for the iPhone and iPod Touch. Designed for bachelors and bachelorettes to protect intimate moments between couples, Little Black Book is the perfect sidekick for securing private love affairs.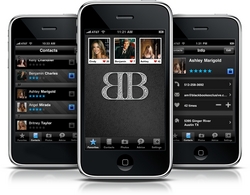 Little Black Book 2.0
New in version 2.0 include:
Quick contact entry on the fly with First Impression
Dial Lock to calm heated arguments or prevent "drunk dialing"
Import and secure existing contacts from your Address Book
Text message and Google Maps support
Overhauled user interface
Little Block Book allows users to keep track of relationships with a 5-star rating and romance counter, personal details and measurements, private photo gallery, and more. Members are granted exclusive access to get anonymous relationship advice from BreakkUp.com's 13K+ member community. And, every romantic detail stored in the Little Black Book is protected by a pin code.

Pricing & Availability
Little Black Book 2.0 for the iPhone and iPod Touch is only $4.99 USD and available in the Social Networking section of the iTunes AppStore.